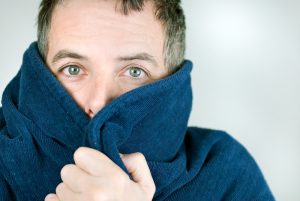 We may be in for a wet and cold stretch here at the beginning of spring—although that's not much of a surprise in Staten Island. Even though this is the time of year when we recommend customers arrange for a professional inspection and tune-up for their air conditioning system (prep early, you never know what's around the corner), staying warm is still going to be the first priority for the next few weeks.
But has staying warm in your home been difficult this year? If you're experiencing cold spots in your house and find more often the family congregating in only certain areas because of the poor heating, there are things you can do about it. But first, let's find out why it's happening.
#1. You have an improperly sized heating system
If you only recently had a new furnace or other central heater installed, the size of the heater might be the culprit. "Size" in this case isn't how much space the heater takes up, but the heating load it puts out. If you had amateurs install your heater, it may not be able to deliver the heating load necessary to distribute warmth around all the rooms. You can arrange with our professionals to do a heat load calculation to find out if you have an undersized heater. If you do, in most situations it will have to be replaced with a properly sized unit.
#2. The ductwork is leaking
This is a common problem that often escapes the attention of homeowners because ducts are difficult to see. Even a small leak in the ducts leading to a room means a portion of the heated air escaping to essentially nowhere (i.e. the space between the walls or up in the attic) and lowering the warmth in the room. Leaking ductwork causes many other troubles and also wastes energy. If you have suspicions about duct leaks, we'll do duct testing to find out if that's the trouble. We can then seal the ducts to restore even heating.
#3. The thermostat is malfunctioning or in the wrong place
A faulty thermostat can cause the heater to turn on and off at the wrong times, making it difficult to maintain proper heat around the house. (It can also cause the reverse problem, where the house becomes too hot and stuffy.) A common thermostat problem we see is that the thermostat was put in a spot where it registers higher temperatures than it should, such as a location where direct sunlight falls on it. HVAC technicians can re-locate the thermostat or repair one that's reading "ghost" temperatures.
#4. The heater is on its last legs
You might simply have a furnace or other heater that's coming to the end of its service life and can no longer deal with standard comfort demands. If you have a furnace older than 15 years, this may be the problem. Work with our professionals to see if repairs can keep it working at normal effectiveness for a few more years, or if it's time to upgrade to a new unit.
Turn to us to warm up your house! We're local Staten Island, NY heating experts who've been in business since 1930.
Scaran serves Staten Island and its neighbors.