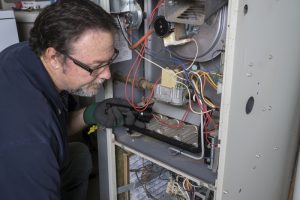 What's colder than a winter in Staten Island, NY? We experience brutally cold weather that can give anyone a run for their money. We get that it's cold outside, but that doesn't mean you want the cold seeping into your home as well. You need to be able to rely on your heater to provide you with consistent warmth when the weather gets this cold.
The clear distinction we want to make today is that there is a stark difference between a need for regular heating repair or emergency heating repair. It doesn't matter what you need, however; you can call today for heating repair and know that our team members can perform the work.  
Call Us as Soon as You Notice the Following
Here are a few signs that you might need emergency heating repair work. We can make sure you get the best service available.
1. No Warm Air
Does your home's heating system seem to be working, but you still don't have any warm air leaving from the vents in your home? This is a sign that you need urgent help. This is especially true if this problem was a sudden drop off. You might have a blocked duct and we're the ones who can solve the issue.
2. Your Heater Keeps Turning Off
Do you turn your heater on and then have an eye roll minutes later when the system shuts off? This is a sign that you're flirting with a breakdown. Suffering from a heater that won't stay on can be just as dangerous as working with a heater that won't turn on.
3. Your Heater Won't Turn On
If your heating system just isn't functioning at all, then it means that you're going to need to call the professionals on our team. This is the textbook emergency heating issue. We know that you might be able to patch things up with a few space heaters in the meantime, but this type of heating just isn't an option. You're going to need to have a whole-home heating system to battle temperatures as cold as these.
4.  There Are Unusual Noises
Are there some weird noises going on in your home when you run your heater? You might notice sounds like rattling, banging, scraping, squeaking, or grating. If this is the case, then you're going to want to take note of these sounds and contact our professionals when you want service. Call us sooner than later.
5. There's Uneven Heating Throughout Your Home
Do you notice that some parts of your home are stuffy or heat up as soon as your heater turns on, while other parts of your home always seem to stay frigid? This can be considered an emergency heating problem depending on how severe it is. Uneven heating and cooling is the symptom of an unhealthy heating system. Make sure you come to us to fix the problem as soon as possible.
Contact Scaran when you need emergency heating repair at home. We can ensure that you get the heating service that you need.