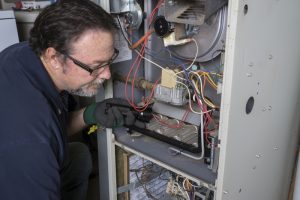 We recommend you make air conditioning maintenance a regular part of your spring cleaning routine. In fact, it may be the most important springtime job to get done for your house. It isn't something you can do on your own, however. It's a job for HVAC professionals with special tools who will inspect your AC and provide it the cleaning, adjustments, and tune-ups necessary for the best performance in the summer.
But we'd like to break down the benefits of how spring maintenance helps your air conditioner beyond JUST "it makes it run better." There are many ways the investment in annual AC maintenance pays you back each summer.
Longer service life
How long do you expect to have your current air conditioning system? Most AC systems are insured for 10 to 12 years, and will often last for around 15 years. But that's only if the systems receive regular maintenance. Without maintenance, air conditioners may only last for 8 years before needing a replacement. That's an immense difference: keeping up with maintenance can double the amount of time you have your air conditioner before you have to spend money to replace it.
Energy efficiency
An air conditioner that collects dust and dirt and wears down without any routine upkeep will drain more power to run. And it will keep getting worse with each year until the AC costs more than 25% more to run until the system breaks down (years before it should). Maintenance means you don't have to pay more and more each summer to have the same cool climate.
Reduced repair needs
One of the key parts of regular AC maintenance is to inspect it and pinpoint any location where the system needs repair work, or at least adjustments and fine-tunings that prevent them. In fact, around 85% of the repairs an air conditioner may need over its lifetime are things that maintenance will prevent or catch early. This not only saves you money, it saves you a lot of hassle.
Peace of mind
This is probably the best maintenance benefit of all: knowing that your air conditioner has little chance of breaking down abruptly during the summer. If an air conditioner goes into the hot months of the year without professional attention—much the same way a car should be tuned-up before driven on a long trip—it has a much higher chance of failing when it's needed the most. Maintenance will prevent breakdowns, and that will let you relax through the summer.
We offer HVAC services in East Brunswick, NJ, including regular air conditioning maintenance through our maintenance agreement. Along with an annual tune-up and inspection for your air conditioning system, you'll also have service for your heating system and a number of additional benefits: same-day emergency service if you call by 5 p.m., 50% off diagnostic fees, 15% off all repairs, and a 5-year warranty on repairs while the agreement is kept active. Call us for more details and to schedule your AC maintenance.
Scaran has Served Staten Island and Its Neighbors since 1930.