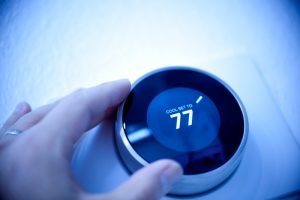 Having trouble heating your home this winter? Your first thought might be to go to what you think the source is—your actual heating unit. We want to encourage you to take a look at your thermostat first before you venture over to your furnace, heat pump, or boiler.
You've probably heard people sing the praises of smart thermostats, but you're hesitating because you don't feel like anything is wrong with the thermostat you currently have. After all, your thermostat clearly displays the temperature and activates your heater, right? Sure. But a smart thermostat can do so much more than this for you.
A smart thermostat system works for you and helps you save money. If you want to upgrade your thermostat in Staten Island, NY contact our team. We'll help you find the right smart thermostat to meet your needs.