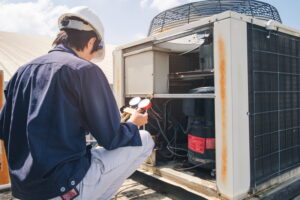 If you've got a commercial space in Piscataway, then you know the backbone of its success runs deeper than your clientele, location, or even your bottom line. What keeps people coming back is the comfort. This is why your HVAC services are so important. If you're looking for quality commercial HVAC in Piscataway, NJ, you're sure to find them with us. Today though, we want to start with the basics.
Choosing the right commercial system for your space is about so much more than finding a reputable brand and choosing a product from them. It's personal. If you're wondering where to start when finding the right unit for you, we want to suggest some guidelines. Keep reading below to find out more…
Your Guidelines
Here are some things to keep in mind when choosing a commercial system:
Your Type of Commercial Space
The type of commercial space you have can vary. This is a broad term and we're sure you know this, but it's important to keep this at the forefront of your mind when you're considering what's going to be right for you.
A commercial space that's being used for a storefront has different needs than one that's a school, office, hotel, or multifamily housing space. Make sure that you consult with a professional so that you're getting what's right for you. Generic advice for all things "commercial" doesn't apply here.
Your Literal Space
What is your space like—literally? We want you to ask yourself some questions like:
How many square feet are in the space?
How many of those square feet do I need to heat or cool?
Does the space already have centralized ductwork?
Where can I best house the indoor and outdoor components for the HVAC systems?
Would zone control be best for this space?
Once you've come up with concrete answers to these questions, you've already narrowed down your hunt quite a bit.
Location
Where is your commercial space located? Of course, it's probably in New Jersey or the Greater Tri-State area if you're an avid reader of our blog, but we're talking about its exact position.
Are you off of a busy street? Do you have a lot of natural lighting coming into your space? Is your space shrouded by lots of trees or foliage?
These are actually all things that affect how you're eventually going to heat and cool your space. It affects your indoor air quality needs as well.
Energy Efficiency
Your commercial energy efficiency is incredibly important. Choosing the most energy-efficient systems possible is what's going to lower energy consumption overall, help reduce the environmental toll your space takes on the earth, and help you keep money in your wallet as well.
Energy-efficient isn't all about choosing the system that has the best eco-friendly reputation. It's also about choosing the system that's perfectly fitted to your space.
The Team
Of course, great service comes down to the team as well. Ours has the experience necessary to help you get the perfect commercial HVAC system. Start your conversation with us today.