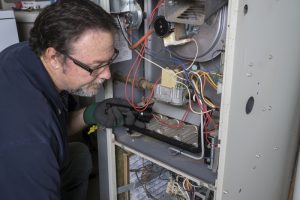 Temperatures are cooling off here in Staten Island, so make sure you prepare your home. Something as simple as a furnace check-up before we reach our cold winter weather makes the world of difference to the comfort of your home and it saves you money. You need reliable heating services here in New York so don't settle for anything less than the best when preparing your home for our bitterly cold winters. When you need furnace repair in Staten Island, NY call our team here at Scaran. We always put the needs of the customer first at our company.
The Benefits of a Furnace Check-Up
Many homeowners procrastinate when scheduling furnace tune-ups. They reason that they can get along fine without one until the end of the heating season or don't realize the benefits of maintenance. While you may be able to scrape by for a while, it's always better to remain proactive with any work done on your HVAC system. Here are some of the benefits of a furnace check-up.
Avoid Breakdowns
Maintaining your furnace on a regular basis fortifies your system against breakdowns. When you have a professional assess your system, they can spot any minor issues with it before they become big problems. Our team can spot these issues and repair them on the spot rather than waiting until they become debilitating problems that affect the comfort of your home. Taking care of these issues quickly and efficiently means you'll be a lot less likely to suffer from a costly and inconveniencing system breakdown.
Increase Efficiency and Save Money
When you get annual maintenance for your furnace you're ensuring that your system is always running at the most efficient level possible. This is good for the health of your furnace and great for your wallet.
Running an inefficient heater is costly because it must work against any system issues to provide adequate levels of heating. When you maintain a high level of efficiency, your system won't strain itself to heat your home and you'll notice the difference in your energy bills.
Ensure Safety
Although furnaces aren't outright dangerous, the combustion process that's used to produce heat within the heating system needs professional monitoring. A minor problem with the system can lead to gas leaking throughout your home or unsafe carbon monoxide levels. You can always ensure your home is safe and your family is healthy with an annual tune-up.
Stay Warm
The most tangible reason to get your heater maintained before winter is to help keep your home warm during the cold season. You don't want to unexpectedly end up with a broken heater in a Staten Island winter. When you maintain your heater, you'll ensure that your home is warm all the way to spring.
We Can Handle All Your Furnace Needs
At Scaran, we've serviced the Tri-State area for almost 90 years. We're a third-generation family owned and operated business. We understand how important your furnace is here in Staten Island, so we provide immaculate repairs, installation, and maintenance at fair prices.
If you need great furnace repair here in Staten Island, contact our team today.